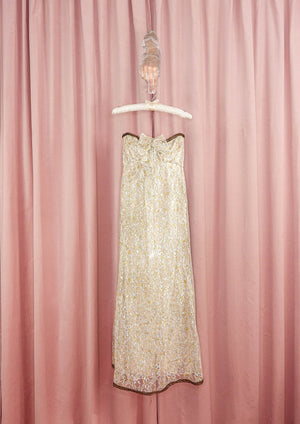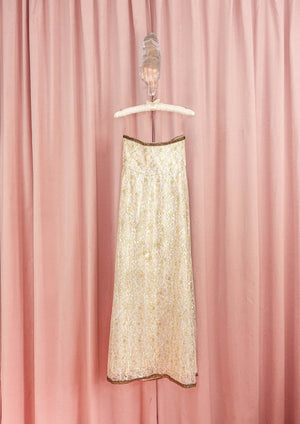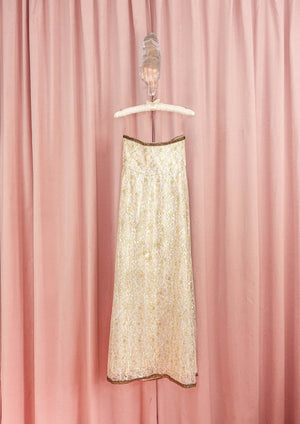 1960s 'Oscar de la Renta' Metallic Lace Column Gown
Divina! Ethereal silver and gold lace will have you looking like a heavenly goddess. A copper braided trim makes this dress even more versatile when it comes to choosing your jewelry. This angel is just as dreamy on the inside as it is on the outside, with a beautifully constructed inner bodice that is the heart of true couture.
This radiant column gown marks a pivotal moment in fashion history. 3 years to be exact. In 1966, a young Oscar de la Renta joined the eponymous luxury boutique 'Jane Derby' as head designer. Jane Derby passed away suddenly in 1968, leaving the brand to the young designer. 1969 marked the year that the brand officially changed its name to 'Oscar de la Renta', and the fashion house was born. 
Bust: 32"
Waist: 28" (under bust measurement)
Hip: 40"
Length: 48.5"
S
Label: 'Oscar de la Renta for Jane Derby'
Center front zip closure. Bra closure on the boned inner bodice. The lining is discolored from age but is not visible when worn.
Have questions about fit? Email us at info@chachalinda.com
ALL SALES FINAL